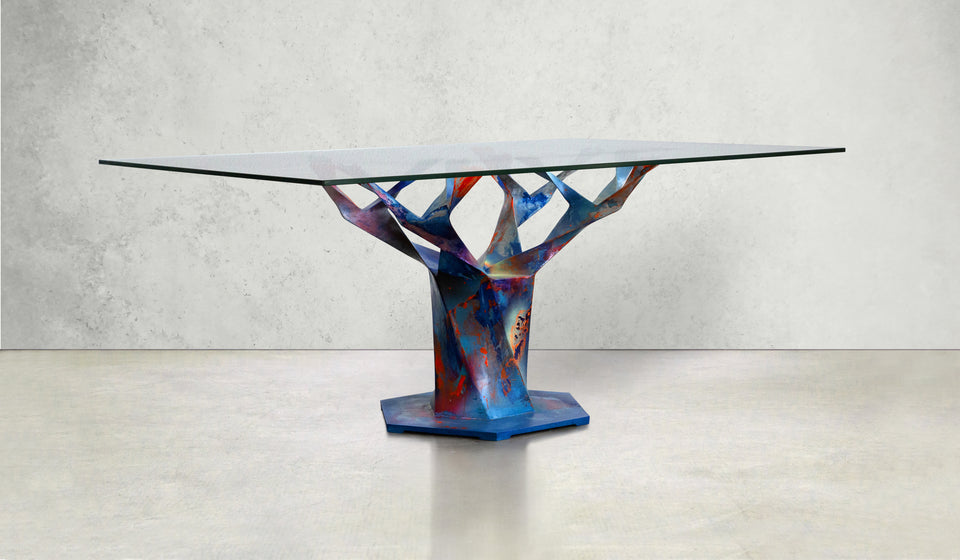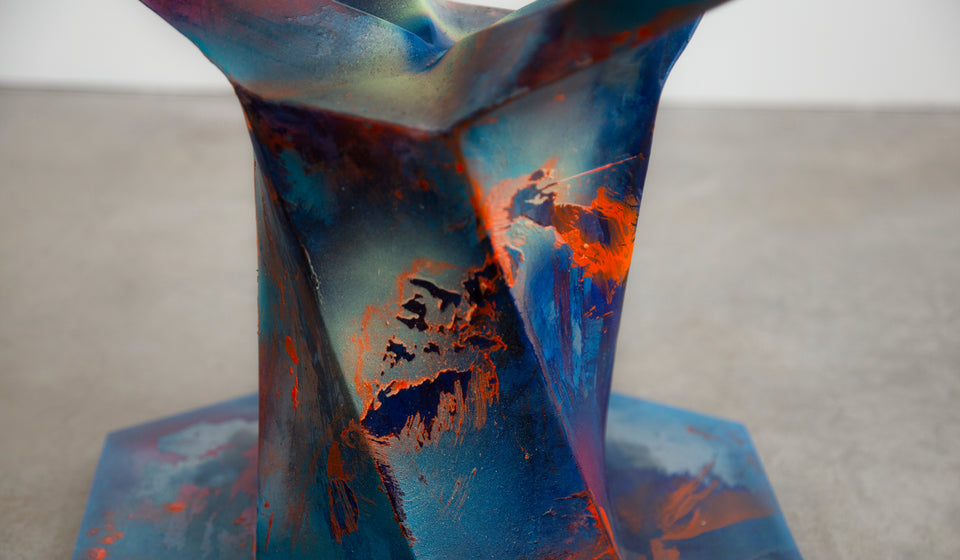 Edenic x Chris Trueman 1 (CTT1)
TCOLL-CT1
NOW AVAILABLE EXCLUSIVELY THROUGH TUFENKIAN FINE ARTS GALLERY
The collaboration with Edenic marks Trueman's first foray into painting on a three-dimensional surface. He welcomed the challenge of adapting his process to a new form noting that, "I've got to consider the structure, I've got to consider that we're not going to be to be seeing this from just one vantage and view." Trueman achieves the unique optical and textural effects in his work by alternating between gestural painting and spray-painting, using squeegees and brushes to apply swatches of paint. The result of this process when applied to the Teâshí is a grungy and glitchy, yet ethereal and cosmic aesthetic. Fluorescent nebulas of orange are underscored by dark blues. "The beauty," Trueman said, "is that there can actually be quite a few different things that you can see in one object." As one moves around the piece, one might feel as if they are confronted with several distinct paintings, which nonetheless coalesce into a seamless whole. The experience is, paradoxically, one of simultaneous fragmentation and unity.
EXPLORE THE EDENIC x CHRIS TRUEMAN COLLAB
Los Angeles based artist, Chris Trueman. Trueman has exhibited his work in numerous exhibitions in Los Angeles, San Francisco, Washington DC, Portland and internationally in Milan, Paris, Berlin, Beijing and Brisbane (AUS). The Lancaster Museum of Art and History presented a solo exhibition of his paintings entitled, "Slipstream." His work was also included in the group exhibitions, "To Live and Paint in LA" and "The Subterraneans" at the Torrance Art Museum.
COMMISSION YOUR OWN EDENIC x CHRIS TRUEMAN
PRODUCT INFO:
Base Dimensions: 17 3/4" H x 25" L x 21" W
Base Weight: Approx. 48lbs
Glass Dimensions: 3/8" Thick, 42" L x 28 W
Glass Weight: Approx. 35lbs 
CONTACT US FOR CUSTOM SIZE / SHAPE GLASS